Once you have completed a workout on a Wingfield court, you can access it via your activity feed. All your played sessions appear here chronologically in the overview.
Go to the Stats section: Click on the -icon at the bottom of the navigation bar.
Open the activity feed: Click on the activity tab at the top to go to the feed.
Sessions that you have played within a check-in are compiled in workouts. In addition to the time, the place and your playing partner, the composition of the workout is also shown in this overview. In the example above, Marcel & Jaan played one match, ten drills and two free plays.
☝🏼By the way: The video shown in the preview are the highlights of the corresponding session. You can find out how these highlight clips are put together in the article on the video player.
💡Tip: To find a session of a certain type directly, you can also use the session filters at the top of the screen. For example, you can display only the drills you have played.
---
Calling up a specific session of a workout
To call up the detailed view with all the statistics of a specific session in the workout overview, you have two options:
By swipe: Swipe the preview tiles of the displayed session to the left to navigate between all sessions of the workout.
Via the workout summary: Click on the arrow next to the playing mode icons and select the desired session from the list.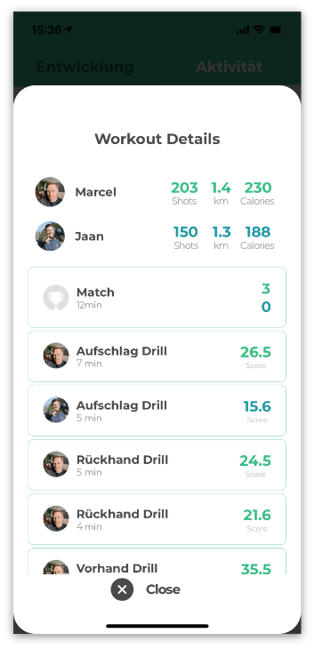 ☝🏼By the way: In the details you can also see the workload of your workout. How many shots did you hit, how many metres did you run and how many calories did you burn? 🔥