The filter function of your feeds makes it easier for you to search your sessions. Here you can learn how to use the filters.
Filters allow you to search your feeds (Activity Feed and Coaching Feed) more easily and show only sessions of certain criteria, for example:
Playing partners
Playing mode
Subfilters adapted to the game mode (e.g. drill type in drill mode)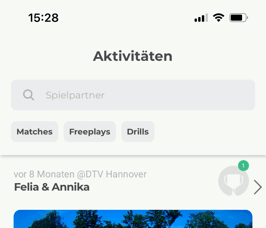 This is how you filter your feed:
Select a playing mode above (e.g. ) or tap to search for sessions with a specific playing partner.
Tap on the appearing sub-filters (e.g.) to further refine the selection within the selected playing mode.
To remove a single selection, click on the corresponding filter again. If you want to delete all selected filters, simply click on the.
☝🏼 By the way: The individual sub-filters differ from playing mode to playing mode.
Sub-filters in matches
Matches won
Matches lost
Official LK matches
☝🏼 By the way: To be able to select the filter "Won" or "Lost" in the Coach Corner for matches, you must have selected a player beforehand.
Sub-filter in Drills
Serve Drills
Forehand Drills
Backhand Drills
☝🏼 By the way: As soon as you display only your forehand or backhand drills, the additional filter Basket or Team will be displayed at the top of the filter menu.