In our Drill Rankings you can compare your skills with players from the Wingfield Community. Here you can find out everything you need to know about the rankings.
Who has the highest forehand drill score in the Wingfield community or in your club? You can easily find out with the world and club rankings.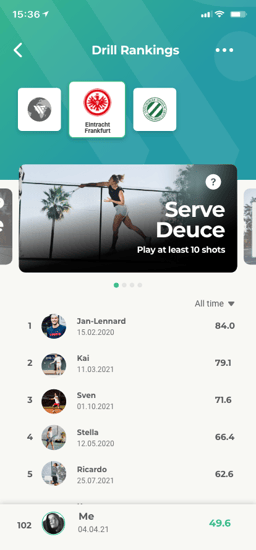 How do I become part of the rankings?
As soon as you have played one of our Drills, your high score will automatically be listed in the corresponding leaderboard. Currently you can register in four different leaderboards:
Serve-Deuce
Serve-Ad
Forehand-Basket
Backhand-Basket
⚠️ Attention: In order to be ranked in the respective leaderboard, you have to play the drills with at least 10 shots.
💡 Hint: You can find out how to get high drill scores here.
What Rankings are available?
You can access the leaderboards from the play-area. Through the navigation elements you can view your rankings, for the drills mentioned above, on world and club level.
Ranking Filter
We distinguish between the rankings of the worldwide Wingfield community and the club rankings. In the world ranking, everyone who plays a drill on any Wingfield court is ranked.
A club ranking will only appear for you if you have already played a session in that club. This means that if you have already played in different clubs on a Wingfield court, the rankings for all these clubs will be visible to you.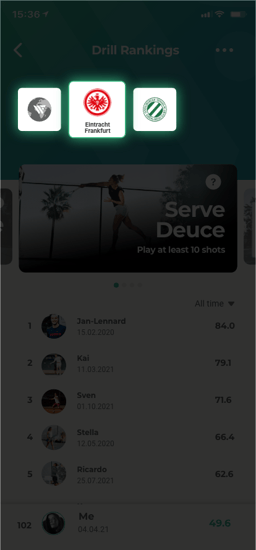 Drill Filter
Within the selected rankings (World vs. Club) you can switch between the different drills. Swipe left or right to go to the next ranking.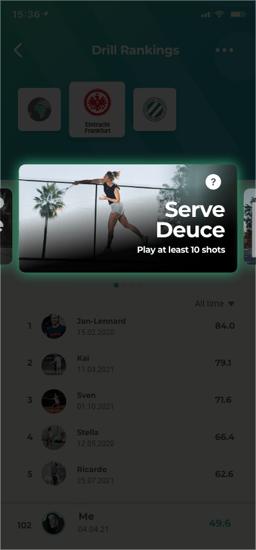 💡 Hint: Click on one of the drill cards to get more information about the selected drill.
Time Filter
Last but not least, you have the possibility to filter the rankings by time. Choose between the all-time statistics, the high scores of last month, the current month and the current day.
---
This is how you can leave a Ranking.
As described above, you don't have to actively do anything to be included in a ranking. This happens automatically after you have played one of the drills with at least ten shots.
However, if you don't want to be part of a ranking anymore, you can leave all rankings by clicking on the three dots in the upper right corner of the screen.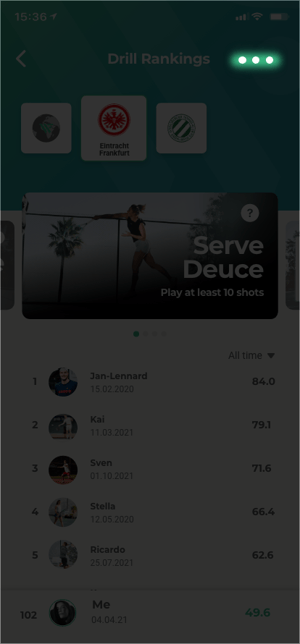 ☝🏼By the way: You can join the rankings there just as quickly afterwards. 😉