Nutze die Height Map, um noch gezielter an deiner Schlaghöhe zu arbeiten. Setze dir für deine Übungen gewisse Höhen zum Ziel und kontrolliere sie anschließend in der App.
We all know how difficult it is to play against opponents who are constantly spinning heavy on your backhand or how frustrating it can be to have only played into the T-field again. With a good height above the net, we get more length in our shots, which automatically become more unpleasant for our opponent.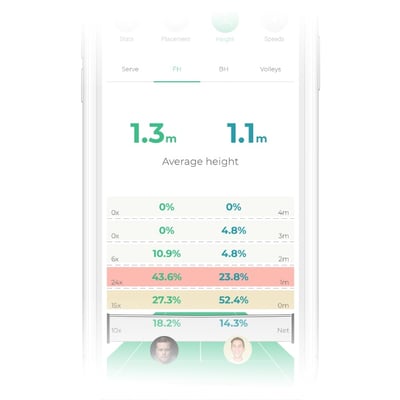 Set yourself certain heights as a target for your exercises and check them in the app. Analogous to target areas on the court, you can imagine target zones at about one, two, three and four metres above the net.
⚠️ Attention: Select the shots in the navigation bar above the height map. Don't be surprised: Shots you have not played in this session are logically displayed without data in the map.
This information is provided by the Height Map:
Average shot height: All shots of the selected type over the entire session (in matches also those of your playing partner).
Absolute height distribution: Number of shot in the different zones above the net.
Percentage height distribution: Proportion of all shots in the different zones above the net.
☝🏼 By the way: By clicking on the map, you can also choose between different views. From the percentage distribution of your shots, you now get an absolute visualisation of them. The green dots indicate all balls in the field, the red dots all balls out of bounds. Shots that went into the net are also shown here in red with a white x.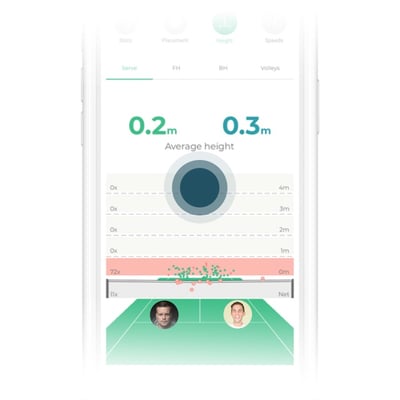 ☝🏼By the way: In matches, all statistics displayed refer to the entire match. To analyse the height distribution only for certain sets, use the set filter. Swipe down and select the sets to be included in the statistics.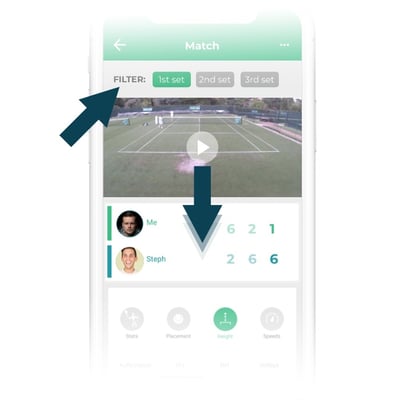 💡Tip: Set small goals for yourself or your players during freeplay exercises. For example, play as many forehands as possible in the zone between 1-2m. You can check yourself on the basis of the absolute distribution. Small challenges with direct feedback in the app enrich the training. This makes learning more fun.
💡 Tip: It can also be exciting to check the impact of the shot height on other areas of your game. In drills, you can see how the drill scores of individual runs differ depending on the height targets you set.