Here you will find different ways to establish an Internet connection on your site. 🌐
Generel Information
The PoE switch is the distribution box of the Wingfield Court and the interface to your Internet network. In order to be able to access your data quickly after playing, we recommend an upload speed of at least 10 Mbps.
Ethernet connection + network cable (CAT 6a)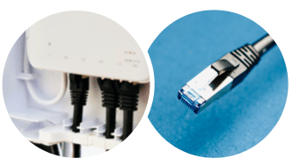 A standard network cable (CAT 6a) is required for the connection to the Internet (see scope of delivery). If you want to install your own cables beforehand, make sure that they are of a similar quality (CAT6 or better). Transmission rates of 1Gbit/s should be ensured.
Generally, you can operate your Wingfield Court via your cable or DSL connection or via a mobile data connection. We have summarized the options available to you in these areas in the respective subsections:
💡 Tipp: If you already have an internet connection at the site, you can easily test its speed here. The test of a WIFI signal should be done on the selected court!
Cable // DSL:
LAN connection from the router or from the wall socket
Extending a WIFI signal from your router
Mobile data:
Using a mobile router
---
You're on the court right now and don't know what to do? We are there for you!
📞 Service Hotline: 0511 51525901
💬 WhatsApp: Click here
📨 E-Mail: service@wingfield.io