Your members and clients can register for your Wingfield Club League at any time on our website. Your goal should therefore be to get as many people as possible to view this website.
In this article you will find some text templates as well as print material for posters that you can use to promote your league(s). Just copy the appropriate texts for your direct communication to your members from this article.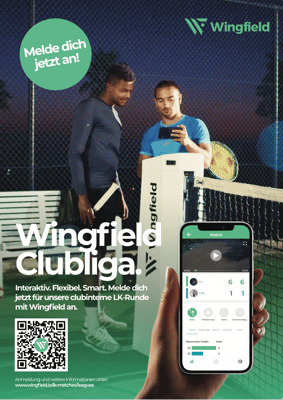 Poster:
In the link below you can download the print data for our Club League poster. Hang the posters at prominent points in the club so that everyone is able to see them. For example, the entrance door to the indoor courts or the clubhouse are excellent places.
🔗 Wingfield Club League Poster (A1) download
💡Hint: Print the poster with a provider like flyeralarm. Choose an A1 poster in 100g image print (glossy), 4/0-color without finishing. It is uncomplicated and quick.😉
Text Templates:
Template 1
Subject: Wingfield club league in club XY

Hello all,
with the Wingfield Club League we start the first LK league format with our Wingfield Court. Flexible match scheduling, automatic result submission and exciting match insights guarantee maximum league fun!
Register now: https://www.wingfield.io/lk-matches/leagues
About Wingfield Club Leagues:
All scheduled league matches can be played completely flexible on our Wingfield Court (court XY). After the match, the results are automatically checked by Wingfield and submitted to the DTB. The entire playing experience with Wingfield is rounded off, as usual, by exciting match insights and highlight videos.
All resulting leagues will be divided into groups of 6 and played as a round robin. Guaranteed five matches for your LK rating and many new matches are waiting for you! The registration fee of 62€ includes the official rating for the performance class as well as the balls for all matches.
Registration and more Information can be found here:
https://www.wingfield.io/lk-matches/leagues
Best regards,
XY
---
Template 2:
Subject: Register now for the Wingfield Club League
Hallo all,
the first Player have already signed up for our Wingfield Club Leagues. Sign up as well under the following link now to join the list!
https://www.wingfield.io/lk-matches/leagues
We are looking forward to your participation!
Best regards,
XY
💡 Hint: In addition, it can be useful to send the message to relevant people in the club. For example, your coaches should also advertise the offer in their group sessions.