From now on you can also compete with your drills in our leaderboards when played in a team.
Rankings for Team-Drills
We have added team drills to our leaderboards. This means that from now on you can compare yourself with other players in the rankings with your high scores, which you have achieved together with a partner in a forehand or backhand drill. A team drill can be played together regardless of gender. Whether a team drill is counted as forehand or backhand depends on which hand the drill is primarily played with. If one of the players plays primarily forehands, the team drill is rated as forehand drill and is included in the corresponding ranking.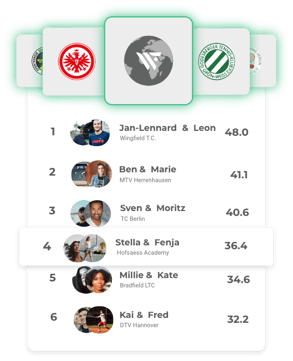 Highlight Video
You can now easily and quickly download the highlight video of a session directly from your activity feed. You don't need to open the session or the video player.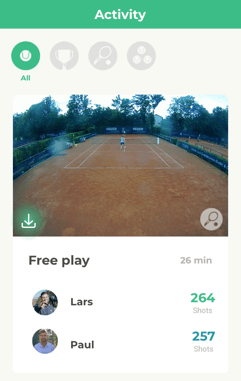 Further Improvements
In addition to minor performance optimizations, we've made the activity section more organized. General overviews of your activity, which you previously found in the "Progress" section, can now be found in your profile. The activities tab now only contains your activity feed, where you can find all your played sessions.