Everything that has to do with official matches takes place in your competition profile.
In selected countries, you have the option to link your Wingfield account to your federation or national rating to play official matches with Wingfield. You manage all your activities as part of these matches in your competition profile.
☝🏼 By the way: Your competition profile has nothing to do with your general player profile. While your player profile combines your general activities at Wingfield, your competition profile only describes your activities in official matches with Wingfield.
💡 Tip: In order for matches to be officially rated, they have to go through our validation process. You can read all about it in our article on match validation.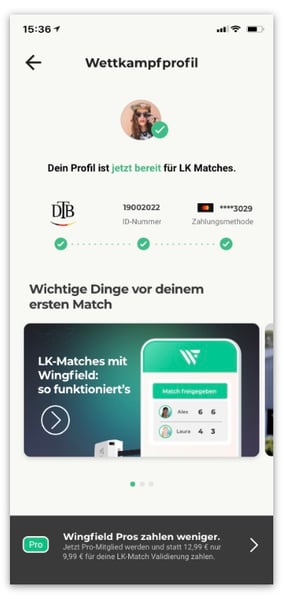 The competition profile is a separate area in the Wingfield app that is not yet activated when you create your account. You have to activate it manually if you want to play official matches with Wingfield.
☝🏼 By the way: You can find it via the menu of the Wingfield app. To do this, go to your profile at the bottom of the navigation bar and open the menu at the top right.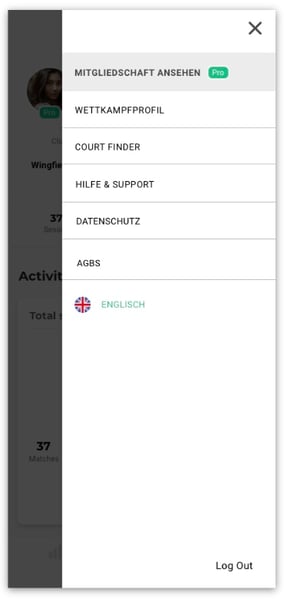 Activating your competition profile
If your federation or national rating already offers Wingfield match validation, you can select and add it to your competition profile. As there is a small handling fee for the validation service, you only need to add a payment method and your profile is activated. From now on, you can access the competition mode (e.g. the LK mode in Germany) at the Wingfield box!
☝🏼By the way: If your profile is deactivated after you have once activated it, this may be due to the following reasons:
💸 Your payment method is invalid.
❌ Your federation does not offer the match validation service any more.
🚧 Your account has been locked by us after repeated offences.
Changing the payment method
For changes, click on the icon of your already deposited payment method and select your preferred option. Unless you have added a new payment method, your Wingfield account will be locked for official matches until a new method is added.
☝🏼By the way: Unfortunately, we cannot automatically use the payment method you have entered for your Wingfield Pro access for the match validation. Usage-based billing (as it takes place during match validation) requires a different technical implementation in the iOS and Android operating systems. You must therefore either add it again or select any other option.
☝🏼By the way: As a Wingfield Pro user you benefit from a permanent discount per played LK match.
Further functions
In your competition profile you will always find helpful links or videos about match validation in your federation. Here in the Help Centre we also open up a category for every participating federation or rating, where we inform you comprehensively about everything.
⚠️ Attention: The competition profile will be available in the Wingfield App from June 2021.