You want to add a Baseline Camera to your Wingfield Box? Here you will find all basic information about the camera and the installation.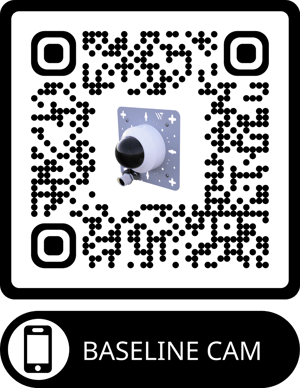 📍Here you are in the installation process of the Baseline Camera.
1️⃣ Technical Specs and Scope of Delivery
---
Technical specs ⚙️

| | |
| --- | --- |
| Measures | 20x20cm |
| Weight | 2,6kg |
| Material | Aluminium, synthetic material |
| Connections | The camera is connected via LAN cable (CAT6a or better) to the PoE-switch and thus directly supplied with power. |
| Video quality | Recordings are uploaded in 720p to ensure a faster upload. |
| Sound | The Baseline Camera has an integrated shotgun microphone. |
| Resilience | Outdoor-ready and weather-resistant. |
Scope of delivery 📦
Wingfield Baseline Camera
Wingfield Baseline Camera

Incl. mounting plate

1x Mounting kit Baseline Camera

for mounting the Baseline Camera on fences, poles, beams and walls.

Outdoor LAN Set

40m outdoor LAN cable, incl. protective caps for winter and waterproof connector for extra long distances.
☝🏼 By the way: Since the conditions are different at each court, we have assembled various mounting options for you. For example, you can mount the camera directly on the wall or a fence post with our pole mounts.
Outdoor PoE-switch
Premium PoE-switch

5x RJ45 slots (1x occupied by power supply) with PoE 802.3 af.

Outdoor housing

Protection and power supply for the PoE switch.

Mounting kit PoE-switch

To easily mount the switch inside the Wingfield Box housing.

Special power cable (1m)

Waterproof connection of the switch (orange).
💡Tip: The PoE switch connects your Wingfield Box to your Baseline Camera. In order to reduce the cabling at the court to a minimum, we recommend mounting the switch inside the Wingfield Box housing.
Installation Guide🔧
Now that you have an overview, we will guide you through the installation of your Baseline Camera:
1️⃣ Technical Specs and Scope of Delivery ✔️
---

You're on the court and don't know what to do? We are here for you!
📞 Service hotline: +49 (0) 511 51525901
💬 WhatsApp: click here
📨 E-Mail: service@wingfield.io