Here you will find helpful tips and best practices on how to use our Club Marketing Kit.
In order to market your start with Wingfield in the best possible way, we have put together a few marketing materials for you. Besides images and text modules for your website, you will find logos, print files for posters or content for your social media channels.

First, download the whole Marketing Kit (see picture). You will find instructions, guides and examples of use in the individual sections of this article.
⚠️ Attention: In order to access all available files download the whole folder. Click on the download icon on the first folder level (see picture).
☝🏼 By the way: You can download the German version of our Marketing kit in the corresponding German article.
Introduction
Basically, we recommend creating as much of your own content with and around your Wingfield Court as possible over time. However, it can still be helpful to be able to use existing content here and there.



First of all, think about which communication channels are actually available to your members, customers or followers, or which could still be established. Basically, it makes sense to promote your new offer through all channels. On the one hand, these can be your own channels...
Website
Newsletter / club magazine
Social Media
Club facilities
Coaches
...
...but on the other hand you should also try to open up external channels:
(Regional) press
Social Media channels of your members
...
Club facilities
Before we talk about all potential online channels, it is important to maximise the visibility on your own site. Of course, the Wingfield Box itself attracts a lot of attention, but this effect can still be intensified, right?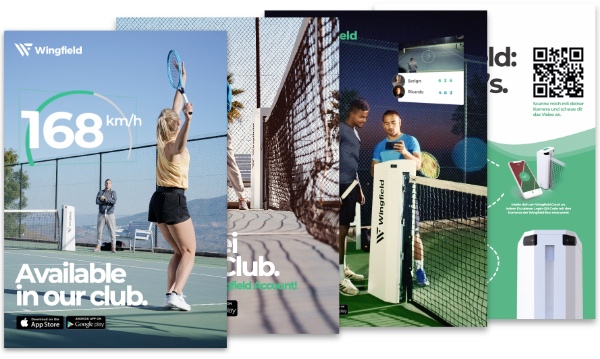 In the Marketing Kit you will find print files for posters that can be hung up in the clubhouse, in the lobby of the tennis hall or in display boxes on the grounds. You have the choice between different general or explanatory motives.
☝🏼By the way: To ensure your court also attracts attention apart from the Wingfield Box, you will have the opportunity to purchase matching "Wingfield Court" banners from us at a reduced price. If you are interested, simply ask our customer service about their availability.
---
Website
With Wingfield, you actively distinguish yourself from other providers. Use topics like "innovation" and "technology" on your website to position yourself as a modern and progressive club. In the following examples, we show you how this can be applied to your website.
💡Tip: If you have not yet taken any pictures of your own Wingfield Court, use the pictures from the Marketing Kit.
Introducing your facilities
Like many other clubs, you will certainly also present your facility on your website. In addition to the number of outdoor and indoor courts, also list your Wingfield courts. Add a small explanation of the technology for those visitors who are not yet familiar with Wingfield.
The Wingfield Court is a camera-based tracking system that provides players with video footage, match and training stats on their smartphones.
💡Tip: For a short presentation of your Wingfield Court, use one of the pictures Wingfield 6, Wingfield 7 or Wingfield 8, for example, which can be found under Pictures ➡️ Product.

It may also be helpful to embed the following video here again:
Partner or sponsor area:
Think about the Wingfield Court as a label of quality for your facility/offer. If you have a sponsor or partner section on your website, it may be useful to include the Wingfield logo here as well.
Introducing your tennis programme
Somewhere on your website you will probably highlight why tennis is special at your facility. Wingfield is another argument and should definitely be listed here.
Think about how integrating modern technology fits you and your philosophy and present it in a short and concise way. Work with the two product videos for our training and match area. Because it's not about beating around the bush here, but about making people want to play tennis!
➡️ Wingfield Improve (Training)
Introducing your coaches
Coaches receive verification by participating in one of our trainer seminars. Verified Wingfield coaches will primarily be given access to special areas in the Wingfield App through this training. Nevertheless, this "qualification" can also be mentioned when introducing the coaching team. After all, another quality criteria for a progressive tennis programme are coaches who deal with modern training approaches and actually implement them.
---
Newsletter
When writing your newsletter, think carefully about what you want to achieve with it. Do you want to announce Wingfield and raise interest in the new court? Or do you want to onboard the readers or inform them about how to use the court?
No matter what your intentions are, you should always be careful not to overwhelm your readers with too much information. Adding images and videos not only emotionally charges your emails, but also makes the information more "digestible".
💡Tip: Check out our social media channels (especially YouTube) regularly. Here we frequently share content that can also be shared on your own channels.
Below you will find a few text modules that you can adapt, add to and integrate into your communication as required.
📝 Announcement:
[...] Some of you have already heard about it, but now the time has finally come! We are digitising our courts with innovative tracking technology from Wingfield. This is another important step towards the future development of our club facilities.


From date X, our court Y will become a smart Wingfield court. The camera-based system tracks all activities on the court and provides comprehensive analyses and video sequences in the associated app. So we can look forward to exciting possibilities for our training and match operations.

Wingfield in training
Valuable training data and videos not only show us where we can improve, but also make our personal progress measurable for the first time and thus even more tangible.

Wingfield in the match
Thanks to exciting match statistics and automatically created highlight videos, our game no longer ends on the court. Reasons for wins and losses can now be discussed and analysed in detail afterwards.

More information will follow shortly. However, if you would like to learn more about Wingfield beforehand, you can find answers to your questions at https://wingfield.io/how-it-works.
📝 This is how it works:
App & Account.
Download the free Wingfield app from the Apple Store or Google Play Store and create your player profile. It's your ticket to the Wingfield world and the place where all your activities are collected.

Check-in at the Wingfield Court
Open the Wingfield app and go to "Start Now" to create your personal login QR code. Scan this code with the cameras of the Wingfield Box.


Select playing mode & start your session.
Would you like to play a "Match", measure your skills with "Drills" or simply track your shots in a "Freeplay"? Choose your playing mode and start your session. But don't forget to choose sides first!


End your session.
After finishing your session at the touchscreen of the Wingfield Box, the data will be synchronised with your app. Have fun analysing. And don't forget to log out of the box if you don't want to play another session.

You can also find more detailed information at https://help.wingfield.io/.
---
Social Media
Use your social media channels to make people aware of your Wingfield Court beyond the club's borders. To present the daily usage of Wingfield in your club in an authentic way, we recommend building up own content. However, you will find helpful content in the Marketing Kit in order to get started with Wingfield on Instagram and other channels.
Post the Wingfield Improve and Wingfield Compete videos from the Marketing Kit on your Instagram or Facebook feed (1:1 format). To generate additional reach, always add the hashtags #wingfield and #wingfieldtennis to your post description and link @wingfieldtennis below your posts.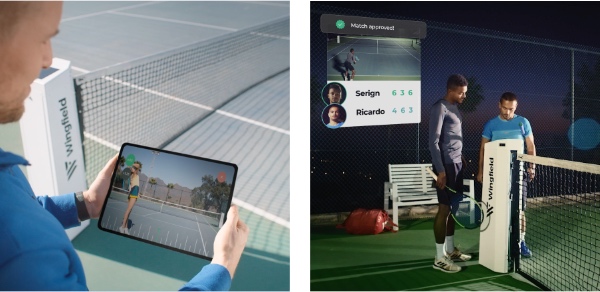 To be able to share your posts via the official Wingfield account, tag @wingfieldtennis with the corresponding function.


The videos in vertical format (9:16) are perfect to generate further attention via the high-engaging formats Instagram Stories or Instagram Reels. In addition to hashtags and tags, Instagram offers further possibilities to edit your content.
Post one of the videos in 9:16 as an Instagram Reel or Instagram Story.
Choose a song that fits the mood of the clip.
Tag @wingfieldtennis in your post and add the hashtags to the description (note: only one hashtag can be added in Instagram Stories!).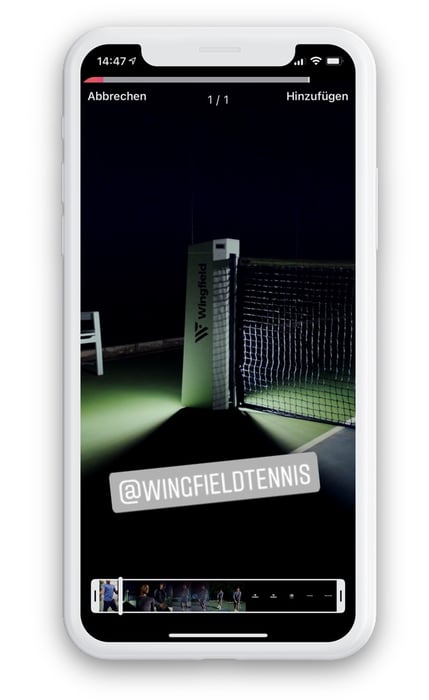 💡Tip: When you first think about social media, you probably think about your own club channels. However, reach and engagement are often significantly higher on private accounts. In other words, try to encourage your members to share their Wingfield experiences on their channels.

Read the article Storytelling on your social media channels for some ideas and examples.