With drill scores, development is no longer just a feeling - it is measurable. But what is the most effective way to work with them? Let's start with a few concrete examples for your training! 💯
With the Drill Scores, we enable you to objectively evaluate the hitting skills of your players. Various quality criteria are analysed and broken down to a simple score. Divided into a accuracy and speed value, they can be used to measure the quality of the forehand, backhand or serve. In this way, you create one thing above all: comparability.
At first glance, comparability sounds all well and good. But when and how can I usefully integrate the tool into my training? First of all, be aware that you can use the scores with different objectives.
Document long-term development: Measure scores in standardised test scenarios over longer periods of time and track their development.
Monitor // Support training feedback: Use the scores within a training session to demonstrate the effects/impact of your corrections.
Increase motivation: Benefit from the effect of direct feedback on the quality of a drill (especially in group / team training).
---
🎯Long-term view: The status quo test
Especially over long periods, the scores are a transparent way to document the development of a player - no matter at which level. The measurable and thus visible progress is just as motivating for beginners as it is for experienced players. Is there progress or is the player stagnating? And in which areas is there still room for improvement?

In order to build up a good database on the quality development of the groundstrokes or serves, standardised tests are needed. We recommend the following exercise structure:
| | |
| --- | --- |
| Number | 10 shots |
| Exercise | Basket drill (Drill mode) | forehand-cross or backhand-cross with ball machine, serve (ad & deuce side) |
| Goal | Quality | Track long-term development |
| Level | Beginner to advanced |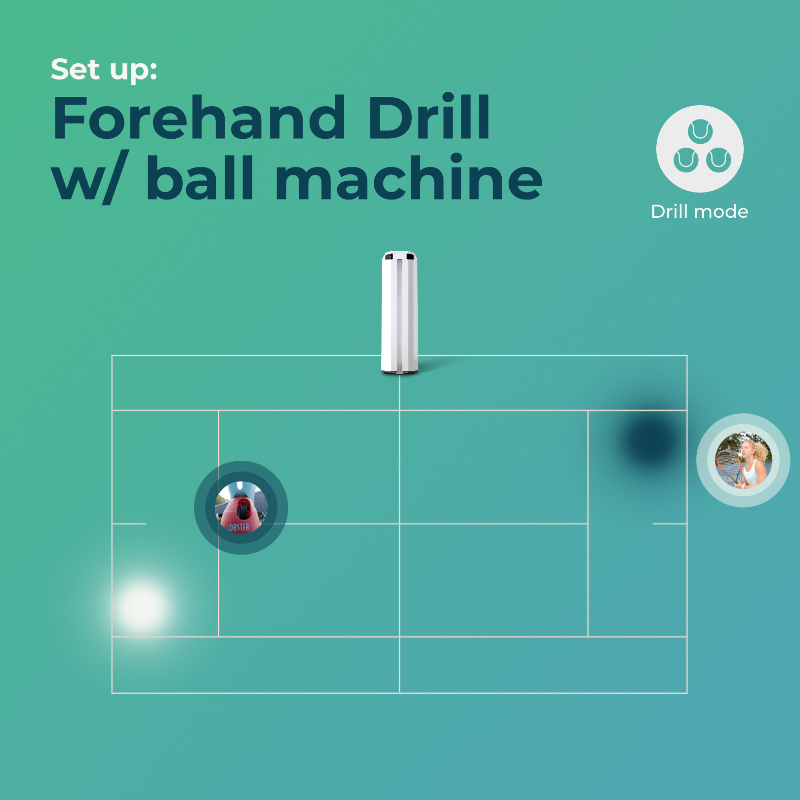 In order to collect scores that are as comparable as possible over an observation period, it is important to structure the exercise as standardised as possible. This applies to the following aspects:
Always the same number of shots per test
For groundstrokes, the approach should be as standardised as possible (we recommend using a ball machine).
External conditions as neutral as possible.
Depending on the structure, the test should either take up a separate unit or be carried out at the beginning of the training in order to ensure a low level of stress for the players.
⚠️ Attention: Why do we advise using a ball machine? Unclean feeding of the balls comes along with some of them being easier to handle, others harder - logical! This could lower the quality of the test result.
💡Tip: Include the status quo test as a regularly recurring event in your training planning. As a fixed component of your work, the Drill Scores will quickly become a self-evident evaluation unit for your players' performance. We recommend integrating it into your training about every 4 weeks to get a valid data basis.


---
🎯Short-term view: quality within a training session
In addition to looking at scores over a longer period of time, their change within an exercise or training session can also be informative.

Use the same structure of the first exercise when working with a player on technical aspects (for example, a too intensive forehand swing or a too strong western grip). No doubt, learning effect will particularly be reinforced when athletes experience a noticeable improvement after a correction. Thanks to the scores, this experience will be as striking as possible.
☝🏼By the way: Since in this scenario no values are to be compared over a longer period of time, the above-mentioned conditions of a standardised test environment are negligible. Feeding the balls in the basket drill can absolutely be carried out by yourself here.
The various interpretation and application possibilities of the Drill Scores also become apparent in the context of partner drills. Check to what extent players are able to maintain the quality of their shots over long rallies. Resistance to stress is the magic word here. 🪄
| | |
| --- | --- |
| Duration | 5 minutes |
| Exercise | Partner drill (Drill mode) | forehand-cross or backhand-cross as partner drill |
| Goal | Endurance | Keep score level constant |
| Level | Advanced |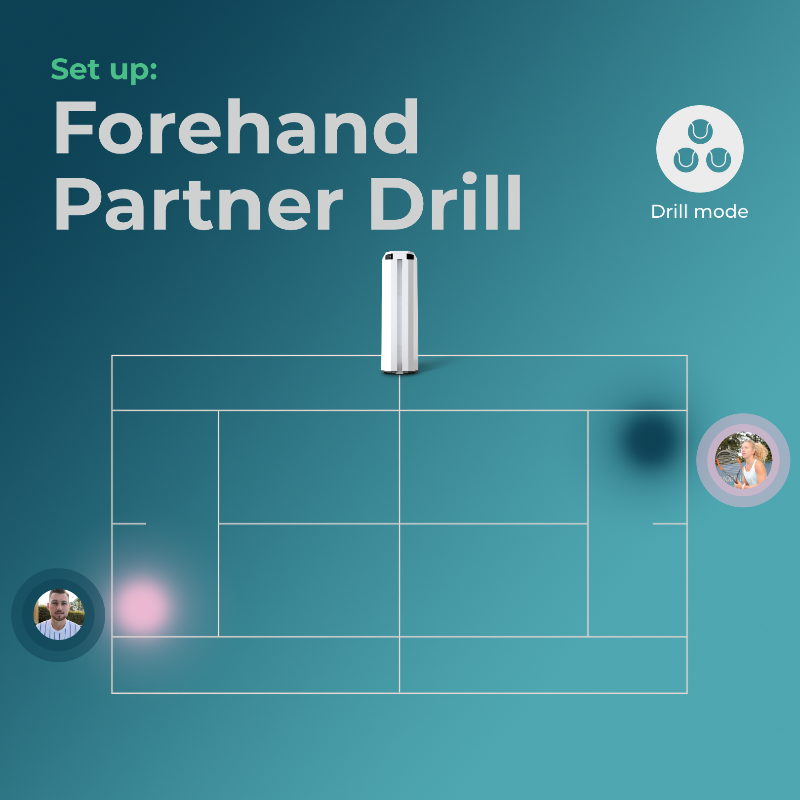 Analyse whether the overall level of scores remains constant or drops. Depending on the focus of your training, you can of course also just look at the progression of the precision or speed scores.
💡 Tip: You can ensure comparability over several drills by always using a constant exercise duration, instead of using a constant number of shots,
---
🎯Short-term view: Challenges
Finally, you can also integrate the Drills Scores into your training without any analytical backgrounds. Bring more competition character into your exercises with playful challenges. What could be more motivating than competing against each other - especially when you get direct and measurable feedback on your exercise?
| | |
| --- | --- |
| Number | 10 shots |
| Exercise | Basket drill (Drill mode) | Forehand-cross or backhand-cross (from the basket or with the ball machine), Serve (ad & deuce side) |
| Goal | Quality | Increased motivation |
| Level | Beginner to advanced |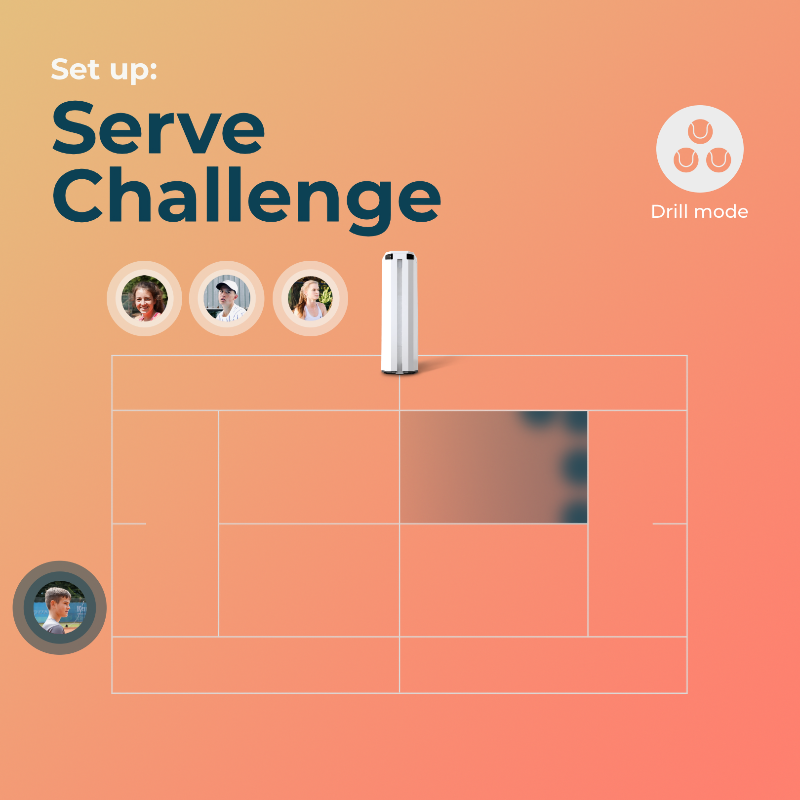 💡Tip:Include these little challenges in your training on a regular basis. Open intra-group rankings to give the whole thing an even more official character. This not only keeps the motivation and competitive spirit alive, but is also extremely fun! 💯