You want to see the activities and statistics of your friends? From now on this is possible.
Activities of your friends
With this update, it is now possible to navigate to the activity feed of the players you follow. From there, you can view the statistics of individual sessions, as well as the highlight videos.
How to get to your friends' activities
Go to the players' profile you are following
Scroll to the Activities section and click on View all activities.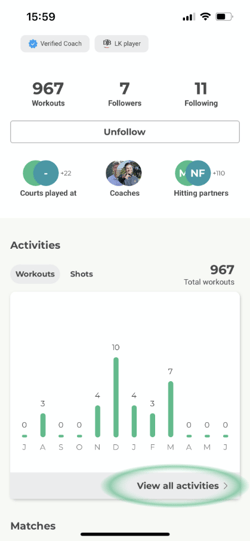 💡Tip: If you are taking part in a Wingfield Club League, follow the other league participants to see the highlights and stats of the other league matches.
Follow hitting partners easier now
We've made it easier to follow players you've played sessions with. You can now send a follow request to the player directly from the detailed session view. You can see the profile and activities of the players you follow.