The Coaching Feed is the central hub of all your players' sessions. Here you can find out how to work with it.
Your Coach Corner feed is the data hub for your training with Wingfield. As soon as a player accepts your coach request, all his or her played sessions appear in this area. In this way, you can also do your analysis directly on the court with your own smartphone or tablet.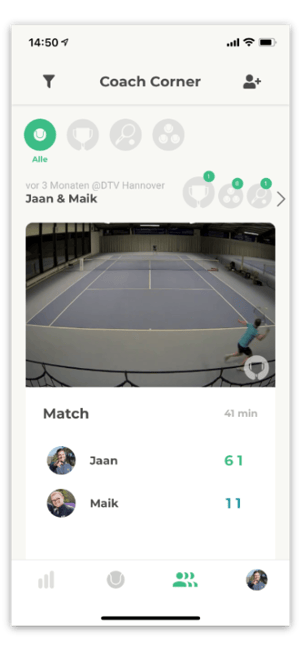 The feed is basically structured like your own activity feed. In the default settings, all workouts are displayed chronologically. Above the video thumbnail you can see how many sessions of a certain type (Match, Freeplay, Drill) the corresponding workout contains. In the example above, one match, six drills and one freeplay were played.
☝🏼 By the way: All sessions that have been played during a check-in are compiled in a workout.
Calling up a specific session of a workout
You have two options to navigate to the detailed view of a specific session of a workout:
Per swipe:Swipe the individual preview tiles to the left until you reach the desired session. Click on the tile.
Via the workout overview: Click on the right-pointing arrow above the video thumbnail and select the desired session.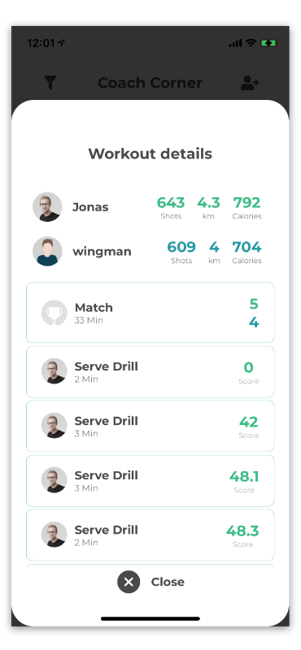 Filter the feed according to certain criteria
With various filter options, you can decide what you want to see in the feed and save yourself a lot of scrolling:
Filter by session: Instead of the workouts, only the sessions of a certain type (Match, Freeplay, Drill) are displayed chronologically.
Filter by player: Click on the -icon at the top right and navigate to the overview of your players. Select the athletes you want to see in your feed.
Filter by groups: You can also use the same method via the -icon if you only want to look at workouts of a certain group.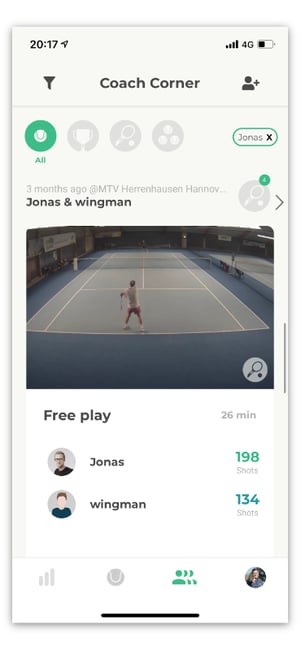 The set player or group filter appears on the right above the feed. You can also remove it directly here.