If you have to stop your LK match due to external influences, you have seven days to finish it. This is how you proceed.
Sometimes, forces of nature can put an end to your plans. In these cases, you can stop your match and resume it within seven days (on any Wingfield court):
🌧 Weather
🔦 Darkness
🕐 Expired Court Booking
🎾 Other
☝🏼By the way: An example to explain the 7-day rule: You stopped the match on Wednesday at 3:58 pm. Now you have until Wednesday 12 o'clock midnight of the following week to finish the match. As long as the ongoing match has not been finished, no new LK match can be started with Wingfield.
Correctly stopping a match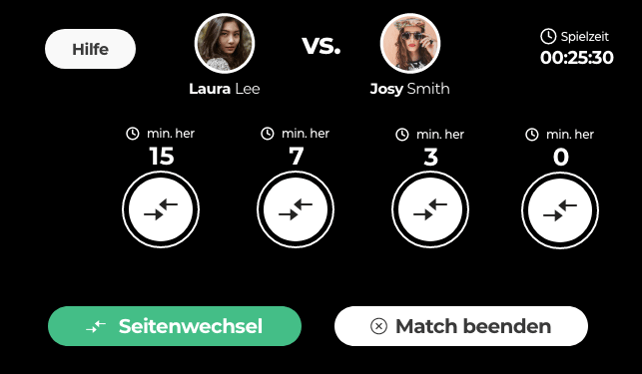 After you ended your match at the Wingfield Box, select the field Interrupted.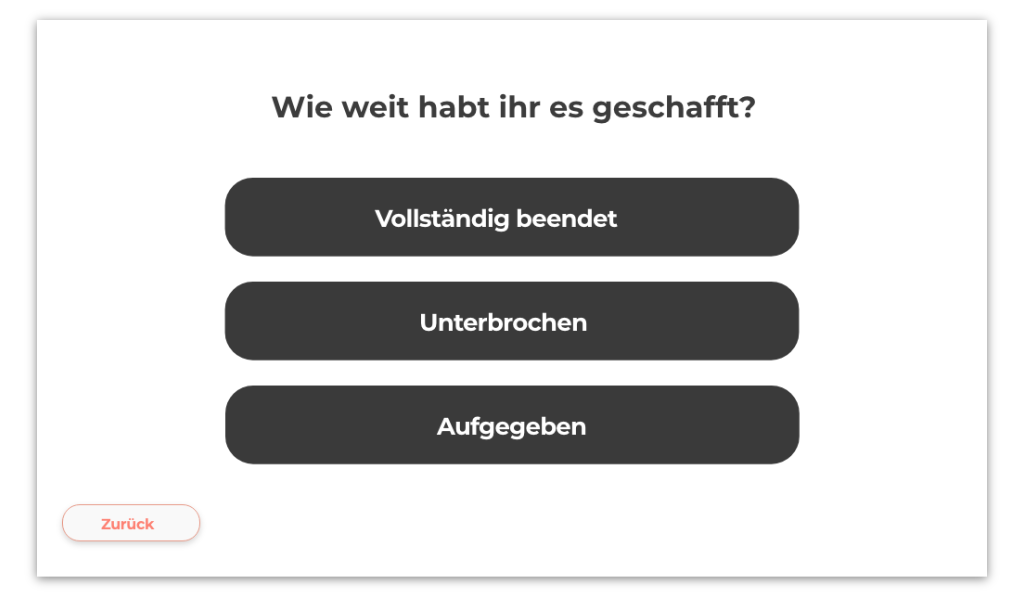 Reason for interruption:
Enter the reason for the interruption and the current score as well as the service game:
🌧 Weather: Heavy rain, storm or something similar are reasons to stop the match immediately.
🔦 Darkness: During night fall, according to DTB regulations, at least the current service game needs to be finished (e.g. until 5:3).
🕐 Court Booking: If a match exceeds the booked court time, it can be stopped in case of emergency. Repeated cancellations due to court bookings will result in warnings or account suspensions.
🎾 Other: Here we summarize all other scenarios that are not directly caused by a player but by higher forces (e.g. a broken net, problems with the surface, broken lights, broken balls, technical problems with the Wingfield Court, etc.).
⚠️ Attention: When booking the court, try to have enough time buffer (book at least two hours).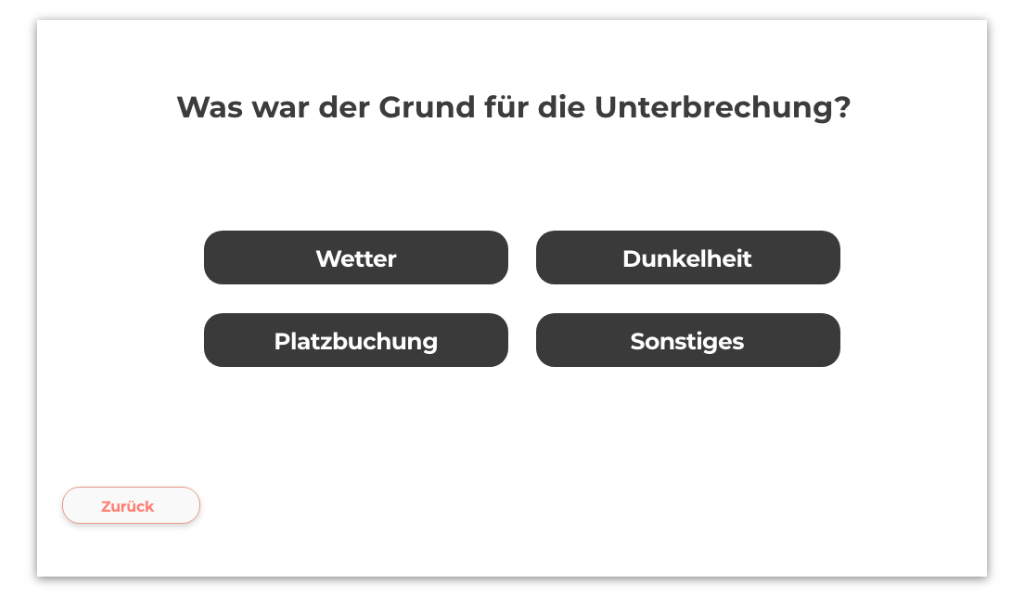 Result entry
Unlike a retired match, if you stop a match, you must enter the result at the point level within the service game.
Example: Here the match had to be stopped because of rain on Laura's serve and lead.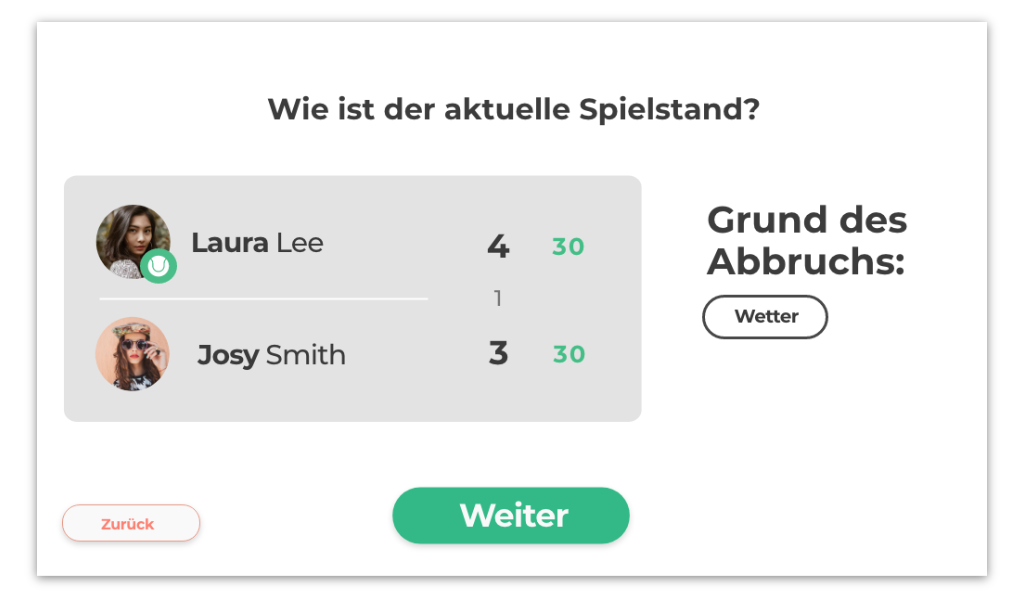 After confirming the result, your match will be paused. You can resume it within seven days. It does not matter on which Wingfield Court it will be continued.
☝🏼By the way: Match fees will be charged only after the completion of the entire match.
---
Resuming an interrupted match
If, for example, after a short rain delay, you are able to play again, you can simply log in to the Wingfield Box again and resume your match.
As soon as both of you have logged in to the Wingfield Box within the seven days and started the LK mode, you will be taken directly to your current session. Here you can see both the current score and who is serving.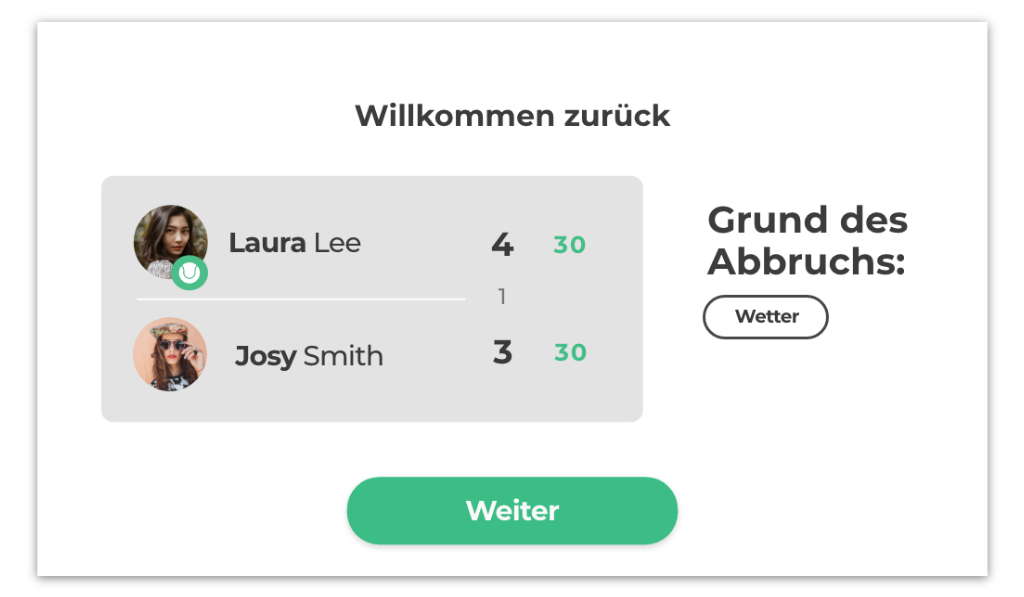 Warm up before clicking Start Match.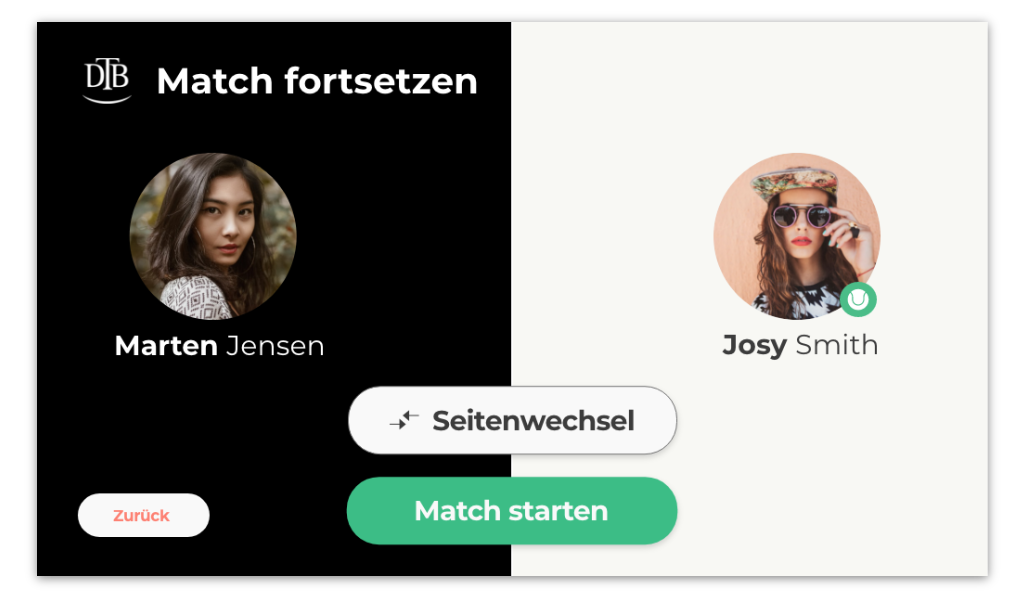 ⚠️ Attention: Remember that you are no able to start another LK match as long as still have a paused match to finish.
---
Missed resumption of a match
If you did not resume your match within seven days, the match will be declared invalid. Since in this case, we will have to check the match manually and create an individual match report, we will have to charge a processing fee of 3 Euros per player instead of the match fees. Therefore, please always try to finish your matches!
The match will be ❌ declared invalid
A processing fee will be charged
A warning will be given
⚠️ Attention: Sometimes it is simply not in your own hands whether you can resume a match in the seven days or not. So don't worry, if you get a warning, nothing will happen for the time being! 😉 Nevertheless, we naturally want to do everything we can to ensure that LK matches with Wingfield are as fair as possible. 📖 Read our article on the subject of violations & sanctions.