The general use of Wingfield is and remains free of charge. Here you can find out everything about the free Wingfield account.
You always start out with a free user account (basic account) in the Wingfield world. This account contains all the basic functions you need to be able to use Wingfield without restrictions. You can log in to any Wingfield court and access all session data and videos in the app.
The difference to a paid Pro account is the time-limited access to your videos and the limited access to some additional functions of the video player. You can find out exactly what these functions are in the article about Wingfield Pro.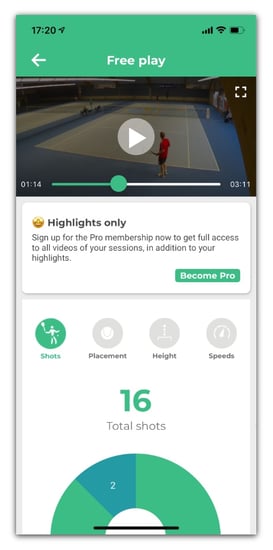 But what does that actually mean? With a Basic Account, you always have full access to the entire videos of your last active training day. Once you play another session on a new day, only the automatically created highlight clip of the session will be shown.
☝🏼 By the way: The session where you still have full access to the video is indicated by the small info box in your session summary (see picture above).
Highlight videos with Wingfield Basic
🏆 Matches

Highlight video: The top five rallies of a match*

🎯 Drills

Highlight video:

Basket drill: The six shots with the highest Drill Scores
Partner drill: The three rallies with the highest total score (max. 20 strokes)

🎾 Freeplay

Highlight video: The top five rallies/shots of a freeplay*
____
*Each individual rally is rated by our artificial intelligence based on various criteria. The best-rated rallies make it into your highlight clip.
☝🏼 By the way: You can upgrade your account at any time in the app. We currently offer a monthly and an annual subscription, which can be cancelled flexibly.