Check the success of your exercises with Freeplay. Have you been able to maintain a certain speed level? Do you have a proper shot height? How accurate are your shots in target exercises? 🎾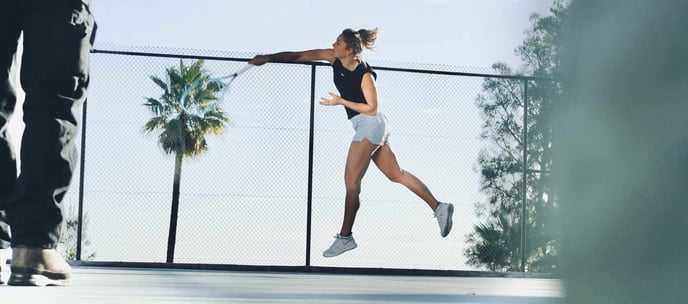 Certainly, one of the biggest challenges as a coach is to make your players understand what you see on the court - especially when players do not yet have the necessary understanding of their movements.


On the court, we therefore see visual feedback as key to increasing learning curves. All collected data is always put into context with video sequences that can easily be accessed on the court after practice.


In Freeplay – our training mode – we focus on improving your strokes. A range can change your work on court in the long term. Use the provided data to check the execution of your instructions or analyse movement sequences down to the smallest detail.
Always the right Tool
When it comes to analysing shots, we focus on accuracy, speed and height. The freeplay mode is structured accordingly.


The available tools can be used in a variety of training situations and practice forms and allow a quantitative assessment of the stroke – no matter if you are working with beginners or want to tickle the last percent out of an advanced athlete.
Placement
Check the placement of each individual shot within a unit. With just one click, you get the corresponding shot position and speed as well as the matching video sequence.

With a quick glance, you can now see whether practice goals have been achieved: Did the strokes in rhythm exercises have sufficient length? Or how accurate played an athlete in a certain target exercise?
Height
Work specifically on the height of your players' strokes and check the height distribution easily in the Height Map. For example, show the effects that changing the grip can have on the height of the strokes.
Speed
Are your players reaching their maximum speed in drills? Are they able to maintain a consistent speed level in rhythm drills? Take a look at the amplitude of their speed graphs to control previous exercises from another perspective.
Technique
In addition to a quantitative perspective, the video player also provides you with a tool for qualitative feedback. This additional dimension can be particularly valuable in technique training. Use the slow-motion function to analyse your players' technique frame by frame.