With our match validation you can play official LK matches at any time. Here you can find out how it works.
Who does not know it? Actually, you want to improve your LK, but often the already cramped up free time just can't be aligned with your club teams match schedule.
With our match validation, you can now improve your skill level whenever and wherever you want - virtually on-demand. Spontaneously arrange to meet on the Wingfield court, play an official LK match, have the result automatically checked by Wingfield and move up your LK.
How does the Match Validation work?
As usual, you first log in on the Wingfield Court. Instead of the normal match mode, however, you start the LK mode, in which results are automatically checked by our match validation and can therefore be evaluated for your performance class.
The validation process is based on a two-factor validation: During the match, different criteria, such as the individual match behavior or possible rule violations, are first analyzed by our artificial intelligence. If inconsistencies are detected during the match, critical sequences are automatically marked in the match data record and later reviewed by independent referees using video evidence.
Only if no suspicious sequences are detected, the result will be forwarded to the DTB. You will receive an e-mail with your match report within three days and the result will be included in your own LK at the next possible calculation date.
☝🏼By the way: There's more to your LK matches with Wingfield than you might think! After each match, you can access exciting statistics (like serve rates) and highlight videos of your best rallies in the app. To make the tracking work best, always keep the match-specific Wingfield rules in mind.
What do I need for that?
In order to be able to use a Wingfield Court, you first need a Wingfield account. With this account, you log in to the Wingfield Box so that match data and videos can be synchronized with your player profile after the match. To do this, download the free Wingfield app.



To access LK-matches with Wingfield, your account has to be activated for this feature. To do this, enter your personal DTB player ID in your account. In our article about the activation of your account you will find everything you need to know.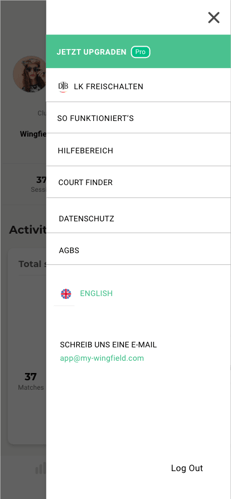 Once your account is activated, you can access the LK mode on the Wingfield box, in addition to the three traditional game modes Match, Freeplay and Drill.

What are the requirements?
Basically, all players over the age of 13 are eligible to play LK matches with Wingfield. Each player must be a member of a club and have an active DTB ID number, which has to be stored in the Wingfield account.
⚠️Attention: For the activation of your Wingfield account you have to enter your DTB player ID and a payment method, which will be charged with the processing fee after the validation (see next point). This should be considered especially for underaged participants.
How much do Wingfield LK Matches cost?
For the processing of a Wingfield-LK-Match a fee of 12,99 Euro per player is charged. As a Wingfield Pro member you benefit from a permanent discount for LK matches. The fee as Pro is only 9,99€.
☝🏼By the way: A part of the earnings from LK matches flows directly back to the club operator (usually your club).
Where can I play?
In addition to the more than 100 Wingfield Clubs in Germany, freely bookable LK locations have already been designated in some state associations. Here you can find an overview of all Wingfield Courts.