Here you will find all the necessary information for moving the Wingfield Court from outdoor to indoor.

Preparing your indoor court 🔌
The same requirements apply to the preparation of the indoor court as for the outdoor court. While the Wingfield Box only requires a power connection within reach, the PoE switch also requires an Internet connection.


Since the connectors of the devices do not necessarily have to be waterproof indoors, extension cables and normal network sockets can be used here. For more detailed information, we recommend taking another look at the following guides:
➡️ How to determine the perfect court


Check once again whether you have the right net post adapter for your indoor court. Contact us if you are missing something:
📞 Service hotline: +49 (0) 511 51525901
💬 WhatsApp: click here
📨 E-Mail: service@wingfield.io
If you are uncertain about how to arrange the cabling, we have compiled the most common possibilities in our article about indoor cabling.
Dismantling of Wingfield Court 🔧
For the easiest change between summer and winter season, we recommend to leave the cabling on the respective courts and only move the three components Wingfield Box, Baseline camera und PoE switch. For dismantling, simply follow the linked installation instructions in reverse order.

Here you can find the corresponding instructions for our two net post types:
➡️ Wingfield Boxes with our pluggable net post adapter (picture left)
➡️ Wingfield Boxes with our integrated net post (right picture)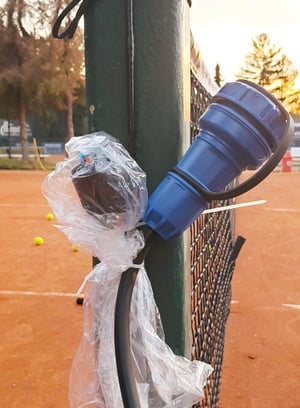 ⚡️ Attention: Make sure the connections (power + network) are winterized after dismantling. It is usually sufficient to protect the plugs against the rain with a tear-proof plastic bag and cable ties. Make sure that they are not lying on the ground.
Cleaning the Wingfield Box 🧼
If the Wingfield Box does not look suitable for indoor use after the summer season, you should clean it with a mild detergent and a soft cloth. Heavy dirt can also simply be rinsed off beforehand.
If the water in your sprinkler system is very calcareous, a little citric acid will help to easily remove the dirt. To avoid damaging the paint of the Wingfield Box after treatment with detergent, make sure to wipe it with a damp cloth afterwards!
Installation on the indoor court 🔧
For installation, follow the same instructions that have already been used for dismantling. If problems arise during installation (e.g. if there is no mounting option for the Baseline camera), contact us straight away. We always find a solution!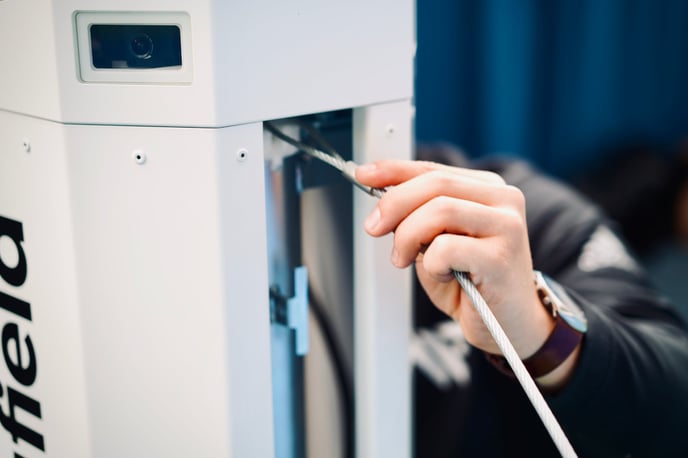 ---
You are standing on the court and don't know what to do? We are here for you!
📞 Service hotline: +49 (0) 0511 51525901
💬 WhatsApp: click here
📨 E-Mail: service@wingfield.io